I just cannot fathom, a lot of things, but why
WB
[subject]
Thursday, March 16, 2023, 08:20 (5 days ago)
Does an AR platform which can be had for say $800 or so go, in gas operated semi-auto form, up to $2000 when it's adapted to a bolt action? It defies all understanding to me.
With modern CNC an aluminum castings or machining on the unstressed receiver portion (it only houses and carries the bolt assy which locks into the rear of the barrel) surely someone can pull it off at a better price point. All polymer and no fitting or final machining, just interchangeable components. It's not like inletted wood and bedding of an action as in the classic rifle. Yet it's capable of astonishing precision accuracy, a shooting machine. I'm looking into making a "straight-pull" hunting rifle myself and the parts are out there. It won't throw my $1 SOCOM empty brass in the bushes.
(Not currently in production)

I'd love to see these guys figure out that adapting the AR platform into a fine, accurate, repeating rig, might be a profitable endeavor with minimal cost. Plus it would take all the fizz out of those that only know AR as a negative, even the uneducated. Personally I think many would seek the precision over outright firepower. It's cheaper to feed too.
Cool, simple, but just too rich for what you get in my view. Probably $5k-$6k as shown!

I really don't get it no matter what the price...
Mike H.
[subject]
Thursday, March 16, 2023, 08:56 (5 days ago) @ WB
maybe if the kit included a new barrel with different locking lug arrangement. In the service, bolt replacement was quite common, and this with milspec bolts of Carpenter steel. The extractor takes the place of a locking lug on one side, leading to lugs taking unequal shock and leading to cracked lugs. That bolt conversion will have same problem. The military has no problem replacing bolts on a regular basis, but civilians don't have a military budget for spares.
Not that I am against either the bolt conversion
Mike H.
[subject]
Thursday, March 16, 2023, 17:29 (4 days ago) @ Mike H.
or the bolt as used in the AR, which rotation is limited by the design, and the multi-lugged the only way it could work in an automatic design.
But in a bolt action, well, folk expect more durability than needing a new bolt periodically. Our bolt life in the service often was between 5k and 10k rounds, and full auto was a minority of the round count.
I can find barrels w/o a gas port in .224
WB
[subject]
Friday, March 17, 2023, 07:12 (4 days ago) @ Mike H.
but other calibers are a little harder to find. There are some makers producing side handle uppers too. One maker produces a large charging handle to fit the traditional upper and use as a straight pull "bolt-action" system. I was considering using a 9mm blow-back bolt assy to make a "repeating" hunting rifle. It has no gas system just the rotating bolt head, powered by a buffer spring pushing it forward.
But all said it's easier to just install a "gas cut-off" gas block to keep from slinging brass, turn off for occasions and still have semi-auto capability. I can buy factory produced rifles and install that quite easily.
I finally ditched my Colt Lightweight Carbine
Mike H.
[subject]
Friday, March 17, 2023, 08:31 (4 days ago) @ WB
plus the 14" M4 upper and A4 20" upper, in part over bolt consumption, but more because I never liked cleaning them in the service and even less so as a civilian. Still wanted a handy light carbine, but only for two and four legged vermin, and ended going to a .22WMR blowback made of all forged and machined steel inside and out. It would be far less brain scrambling indoors with no hearing protection and less dangerous to neighbors. Only critters it has whacked are coyote, turkey, and hog.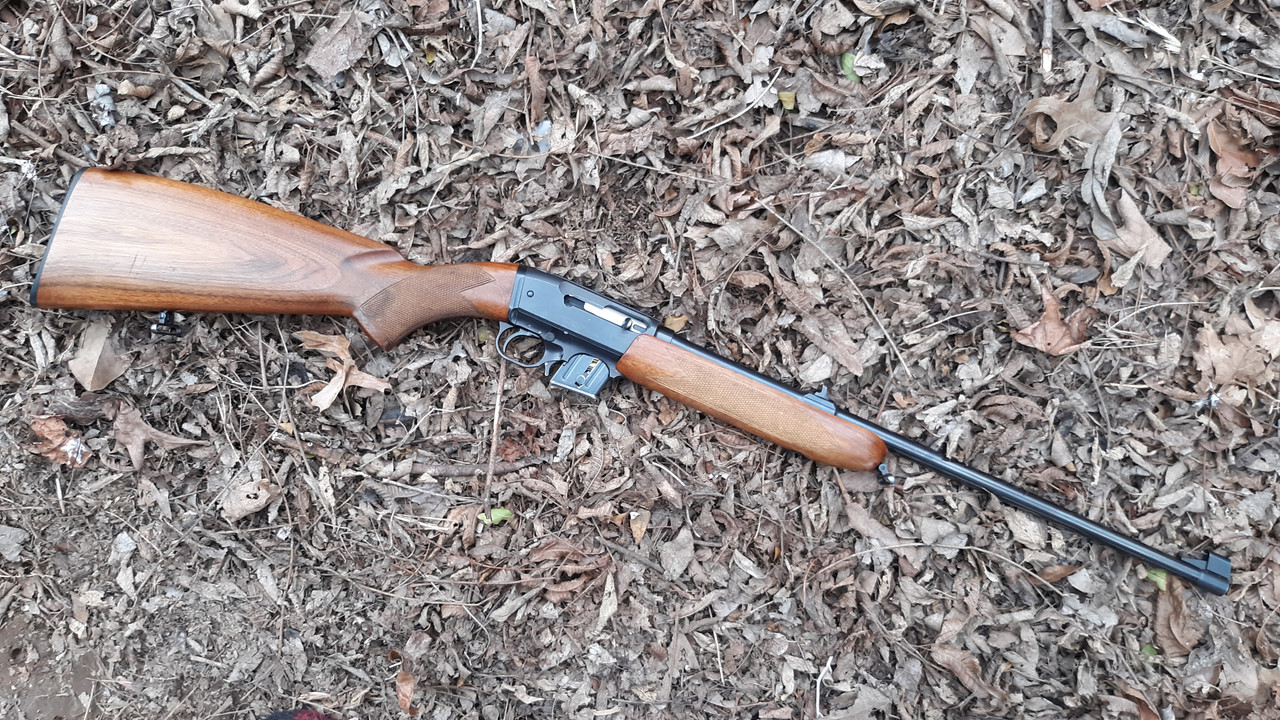 What gun is that?
Gary Reeder
[subject]
Friday, March 17, 2023, 17:24 (3 days ago) @ Mike H.
It is a Brno alphabet soup 611. This one was
Mike H.
[subject]
Saturday, March 18, 2023, 07:54 (3 days ago) @ Gary Reeder
a Montana rancher truck gun for 20yrs before he sold it to me. They only made them from circa 1993-2003, they were too expensive to sell well. In 1993 they were $600 and nicest bolt action from same company was $300.
The best ones were made earlier and have stamped import marks, later ones had lased whitish import marks. There also was a cheaper later version marked as 611A which I would not recommend. The best ones were imported by Bavarian Arms out of CA and Magnum Research in MN.
Being highly desired and out of print, current prices are really high, and magazines are going for insane amounts, $300 for a 10rd and $150-$200 for 5rd, and buyer beware even on those as when production stopped, somebody else bought tooling and produced a knockoff of mags and guns, and neither as good as original.
A "good" price for one nowadays is under $800 for an obviously used one. Compared to how modern guns made and their prices, it still would be a bargain, they shoot 1-1.5MOA depending on ammo. They also take down like a Marlin 39A for cleaning/travel.
I like that. They made some funky rigs.
WB
[subject]
Saturday, March 18, 2023, 08:36 (3 days ago) @ Mike H.
I had some BRNO OU shotguns that were quite unique. I still have Kase's old custom 602 now in .416 Rigby. I think it's been several different calibers actually. I kind of wish it had the factory set trigger but it's nice anyway.
This one is a marvel in immortal funky. The
Mike H.
[subject]
Saturday, March 18, 2023, 09:11 (3 days ago) @ WB
blowback works due to bolt mass, where what bolt you can see has two heavy rails extending forward, and those rails end in what best can be described as an upside-down mirror image of the bolt, the rails and that forward section hidden under the forend wood. The front section is counterbored and has a guide rod with spring around it which faces aft, and plugs into the front of receiver to power the bolt. That bolt is all one massive machined forging. It blew my mind 10yrs ago when I bought this thing, to see the hammer, trigger, sliding sear block (like a pump shotgun) and even magazine lock, were all machined forgings. If this is funky, I want more funky guns made. That rear barrel band/rear sight base is machined integral with the barrel.
As for reliability, Tom Knapp used one in exhibition,
Mike H.
[subject]
Saturday, March 18, 2023, 11:13 (3 days ago) @ Mike H.
his gun was gussied up a mite. That is an early Bavarian Arms import from circa '93 and years before Knapp shot for CZ, and my assumption is CZ-USA scounged it up and decorated/refinished it for him since CZ was formed from what remained of Brno after bankruptcy. Some of the early guns have a purple cast to lowers as a different steel was used for lowers and one blueing formulation did not cut it for entire gun. Looking at mine, and interior left in the rough, it also appears to be a forged machining, no part lines or sprues to be found. Knapp's purple lower may have been due to the refinish, I say this as mine is about 500 numbers earlier than Knapp's and no purple at all.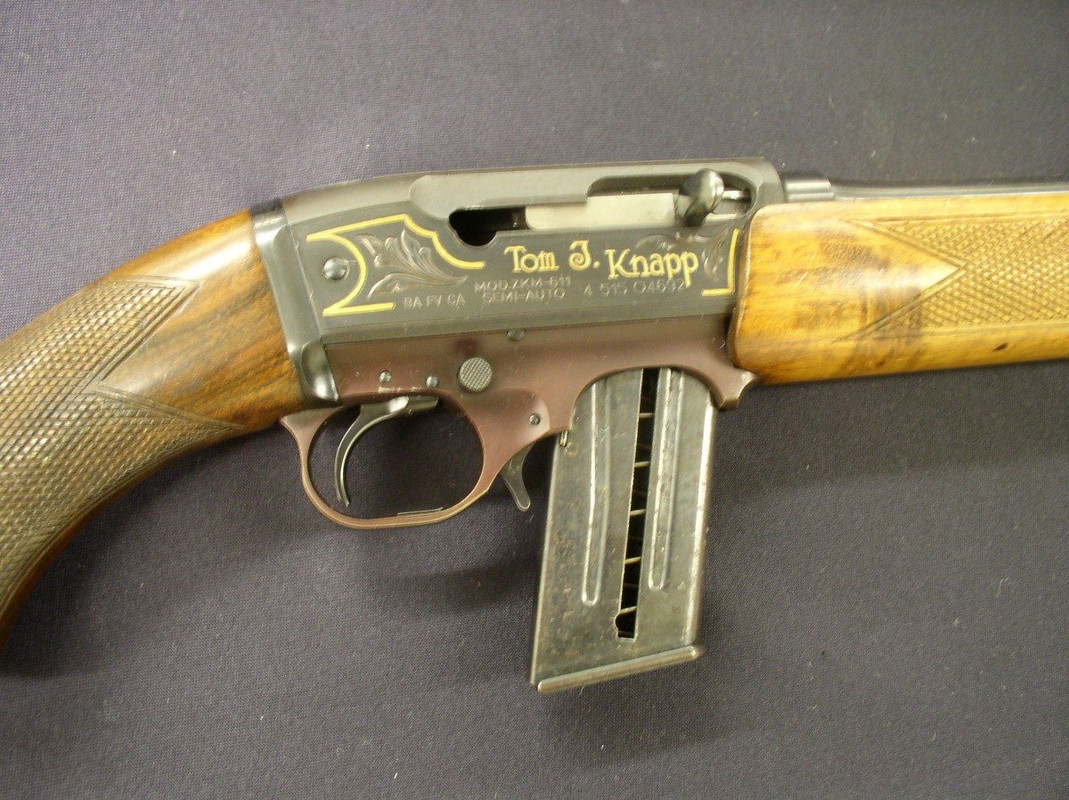 That 602 started out as a 375 H&H. We changed the
Gary Reeder
[subject]
Saturday, March 18, 2023, 12:11 (3 days ago) @ WB
stock a bit to fit Kase better and rebarreled it to 416 Rigby. Those are the only changes that gun has had. No other calibers. When we bought the original 602 from our distributor as far as I can remember didn't have a set trigger. We re-worked it for Africa and for hunting dangerous game a set trigger is as useful as tits on a chicken. We rebarreled it and did the work on it as Kase had ideas of hunting a Cape Buffalo with it. In the pic the top gun is the BRNO 602 in 416 Rigby and the bottom gun is the 458 American we built for Colleen for the same hunt. Kase took several large animals in Africa and Colleen has also done so including her big Cape Buffalo in the last year or two.

The photo of the missus looks like from 1963,
Mike H.
[subject]
Saturday, March 18, 2023, 14:13 (3 days ago) @ Gary Reeder
including the bosses on that Cape buffalo.
Why would anyone go to the trouble of building
Gary Reeder
[subject]
Thursday, March 16, 2023, 14:06 (5 days ago) @ WB
a bolt gun when you can buy a Mossberg MVP that will outshoot almost any semi auto out there and most high dollar bolt guns and do so at half the price of building one. Plus it takes the AR magazine.
All these young folks building their own guns with no serial numbers are what has got the ATF on all gun owners. We get one or two of these yoyos in the shop every week wanting us to put a serial number on it for them, which we won't do.
Gun building needs to be left up to the gun manufacturers, not your brother-in-law in his garage. These guys build the ghost gun ARs and sell them to their friends, which is illegal. The ATF says you can have one gun with no serial number (Ghost gun) but you cannot sell it or trade it off, yet you see these ghost guns by the dozens at gun shows. And this is what gets the ATF after all gun owners.
These gun builders don't seem to realize that building a gun is more than slapping some parts together. Who is going to accept the liability if it blows up and hurts someone, or if it is used in a crime and then the ATF comes to your door. Plus what garage gun builder has the equipment to make sure the gun will handle the high pressure levels of some of the new cartridges.
It all comes down to who wants to accept the responsibility, and unfortunately the young crowd doesn't. They just want to tell their buddies they are a gunsmith.
Well said Gary!
SPB
[subject]
Thursday, March 16, 2023, 16:32 (4 days ago) @ Gary Reeder
I just bought a 556 MVP Patrol two weeks ago. Been
ChrisG
[subject]
Thursday, March 16, 2023, 19:31 (4 days ago) @ Gary Reeder
fantastic so far! Haven't even felt the need to adjust the sights.